About Grubbs Angus Farm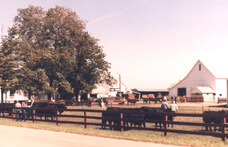 Grubbs Angus Farm, Hillsboro, IN, was established in 1933 and has always strived to produce profitable cattle that pass on those traits of hard working, usable cattle regardless of the trends and new fads. With today's emphasis on numbers, we feel the true worth of a cow is sometimes obscured by what someone feels she will be, instead of what she truly is. Only by looking at what these cows have actually done, can the true measure of their worth be calculated.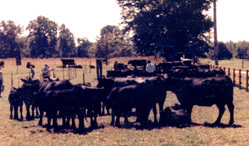 We are happy and proud of our success in the showring but even more rewarding is the success of our customers' accomplishments with our cattle.
Through our sale ring we have sold a national champion, Grubbs MacKenzie, and national champions have been produced by the females sold through our program. We are also very proud of the performance of our cattle. Our bulls have won the Indiana Beef Evaluation Program (IBEP) Test many times and also the IBEP Get-of-Sire more than any other breeders.
We have always tried to use the top sires of the breed in our program. We sell farm tested bulls privately and have a production sale every year in September.
We welcome everyone to join us at our sale this year on September 10, 2011. Come by our farm any time as we enjoy discussing and showing our cattle to guests.
Look for our sale flyer and catalog to be posted here on our Web site or e-mail us.
Dale Grubbs & Family